Dental Implants – Schoharie, NY
Modern, Lifelike Replacement Teeth
Dental implants are a modern restorative dentistry treatment that is able to replace the entire structure of missing teeth from the roots upward, which is what sets it apart from other traditional options like dentures and bridges. This process secures dental prosthetics directly to your jawbone, just like your natural teeth, providing them with an unwavering foundation that can last for decades with regular maintenance. To learn about what dental implants in Schoharie could do for you, schedule a consultation today at Schoharie Dental.
Why Choose Schoharie Dental for Dental Implants?
Start-to-Finish Dental Implant Treatment
Same-Day Replacement Teeth
Financing Available Through CareCredit
What Are Dental Implants?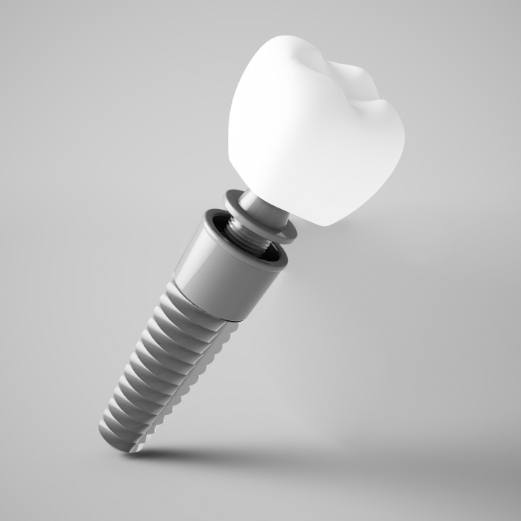 A dental implant is a biocompatible titanium screw-like device with a treated surface that is inserted in the jawbone and left to heal and fuse with the jawbone through a process called osseointegration for three to four months. Then, a dental crown, bridge, or denture is attached. Dental implants are the ideal solution for replacing missing single or multiple teeth, and under dentures for increased stability and retention.
The 4-Step Dental Implant Process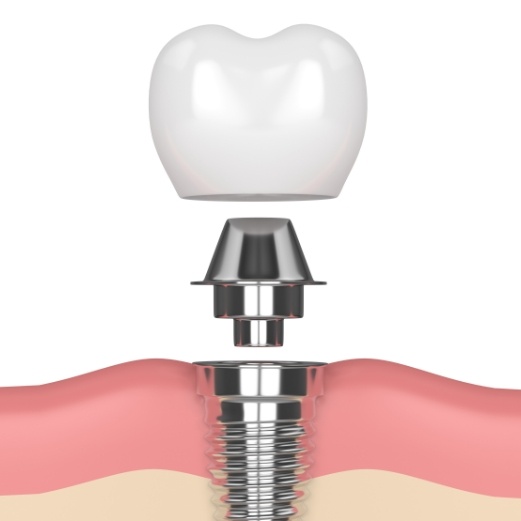 When a tooth is deemed non-restorable, Dr. Elbialy can remove the tooth, place the implant, and (only on front teeth) make a temporary crown during the same visit. In some cases, that might not be feasible because a bone graft may need to be placed and left to fuse with the jawbone for three to six months, then an implant is placed. Some discomfort is to be expected, but in many cases, it is easily controlled by over-the-counter pain medication or a prescription.
Benefits of Dental Implants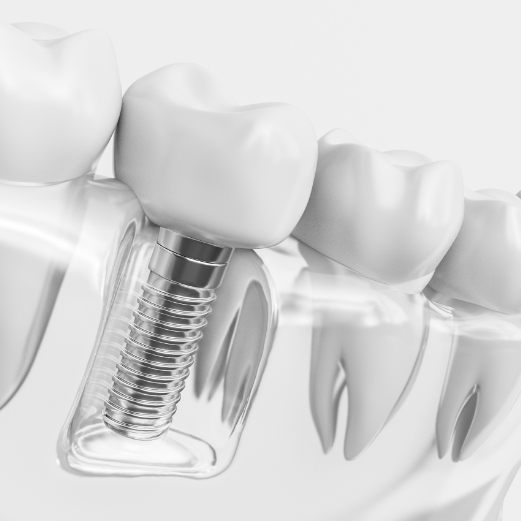 Dental implants in Schoharie offer a wide array of benefits that set them apart from other tooth replacements. Some of the unique advantages of choosing dental implants include:
Prevent jawbone deterioration over time
Preservation of the facial structure
Restore up to 90 percent of your bite power
Easy to maintain
Lifelike appearance and feel
No need to remove prosthesis at night
No slipping or shifting prosthesis, and no need for adhesives
Who Dental Implants Can Help
Dental implants in Schoharie aren't always the best tooth replacement option for every situation, which is why we conduct a consultation before moving forward with any procedures. Based on your goals as well as other factors, like your jawbone density and medical history, Dr. Elbialy will make a personalized treatment plan to restore your smile that may include any of the following tooth replacement strategies.
Missing One Tooth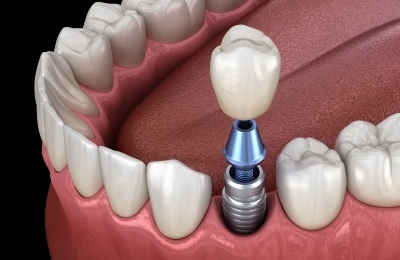 To replace a single tooth, we will place a titanium dental implant below the surface of the gumline. Once it has fused with the jawbone, we can attach a customized dental crown to it to fill the hole in your arch.
Missing Multiple Teeth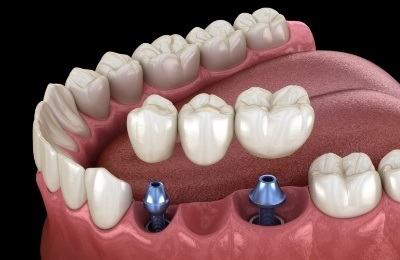 Instead of burdening your natural teeth to anchor a traditional fixed bridge, we can place two dental implants at either side of the space in your smile to secure the restoration and replace anywhere from two to four missing teeth.
Missing All of Your Teeth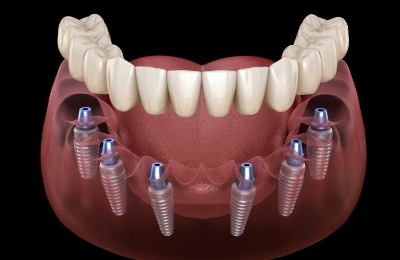 If you're missing an entire arch of teeth, we'll strategically place anywhere from four to eight dental implants across your arch. Once they have fused with the jawbone, they will hold a customized fixed prosthesis or a removable implant denture in place, restoring your entire arch of teeth.
Understanding the Cost of Dental Implants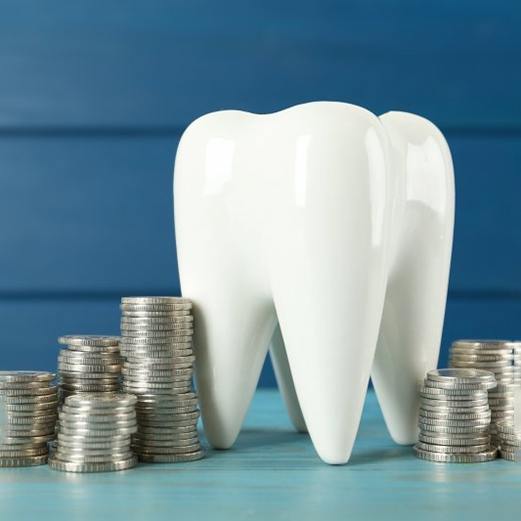 While dental implants offer life-changing results for replacing missing teeth, it's important to know how much the treatment will cost. Since every patient is different, you won't be able to receive a price estimate for your procedure without an initial consultation. During this visit, our team will evaluate your situation so we can discuss a more precise cost of dental implants as well as the methods available to you for making your treatment more manageable.
Preliminary Treatments & Dental Implant Surgery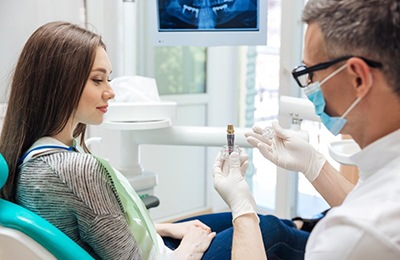 Those who have existing oral health issues will require preliminary services to resolve them before moving forward with their treatment plan. These can involve gum disease therapy, bone grafting, and even tooth extractions if necessary, which can increase the overall cost. Of course, this will also ensure more successful results.
The surgery itself will also come with its unique price, which typically starts at $3,000. Fortunately, the entire process can be completed in-house, so you won't have to drive across town or receive a bill from a different provider.
The Parts of Your Dental Implant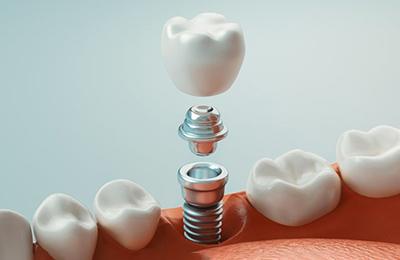 The cost of dental implants can also be affected by various factors, such as:
Number of implants: Replacing a single tooth will cost much less compared to replacing an entire arch of missing teeth.
Type of restoration: Crowns, dental bridges, and dentures usually come with different prices. Each option comes in different sizes as well, which can affect the cost.
Material: Dental implants can be made of different materials, such as zirconia and titanium, which will cost significantly different from each other.
How Dental Implants Can Save You Money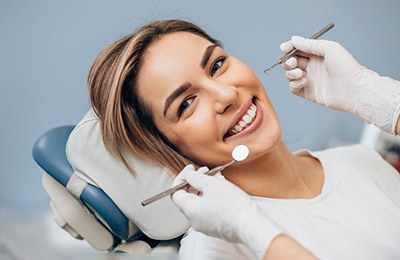 While some patients might consider getting dental bridges or dentures for a more cost-effective option, they should remember the value dental implants bring in the long term. Firstly, you won't require replacements every several years like other restorations, and you shouldn't need special cleaning products or solutions to preserve them. They'll simply require normal teeth cleaning methods to make the most of them for decades to come. This can also help you avoid oral health issues as well as costly treatments.
Does My Dental Insurance Cover Dental Implants?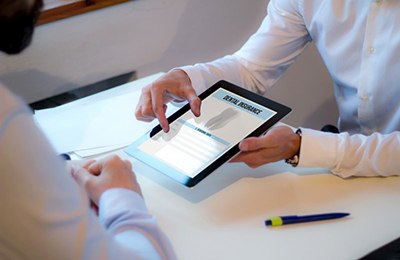 Though dental insurance may not cover the overall cost of dental implants, some providers can at least help cover the parts of your treatment. This can involve the restorations themselves (crowns, dental bridges, or dentures) and any preliminary procedures you might require. Make sure to consult your insurance company and dentist about the details of your plan so you know to maximize your benefits.
Making Dental Implants Affordable
Even if you don't have dental insurance, you might be eligible for alternative financing solutions, such as CareCredit and Lending Point. These third-party financiers offer plans that can split up your treatment price into monthly installments which often come with little to no interest! This can make your payments more manageable and stress-free as you rebuild your beautiful and healthy smile.
Maintaining & Caring for Your Dental Implant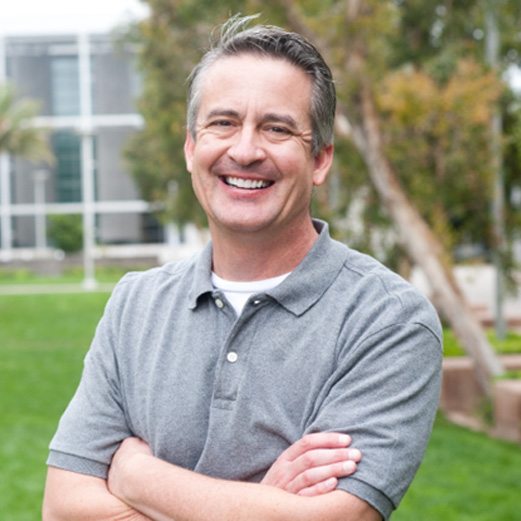 Do you want your dental implants to stand the test of time? Of course, you do! With proper maintenance, they can remain effective and strong even 30 years after they're placed. Fortunately, caring for your implants is as easy as caring for natural teeth. Additionally, you can protect your investment in your smile by making wise and healthy lifestyle choices. Continue reading for some valuable tips that'll help you get the most out of your new smile!
Make Oral Hygiene a Priority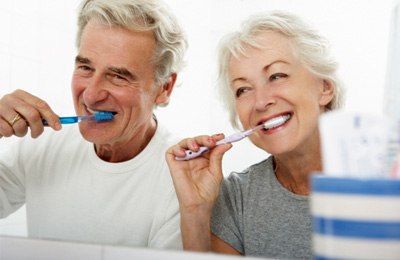 Even after replacing your natural teeth, it's crucial to continue basic dental care practices – brushing and flossing every day. While your prosthetic teeth may be resistant to cavities, plaque and bacteria can still accumulate on your restorations, potentially causing infections or other issues. Brushing twice a day and flossing daily can prevent buildup and extend the longevity of your implants.
Eat a Healthy Diet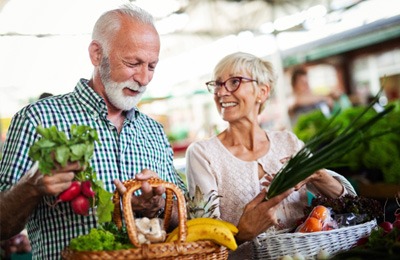 The foods you eat nourish not only your body, but also the bacteria residing in your mouth. Although dental implants are resistant to decay, your diet can influence your oral health and the ongoing well-being of your smile. Eating lots of starchy or sugary foods will promote the growth of bacteria, leading to gum disease and potential implant failure. Instead, you should fill up on healthy foods like fruits, vegetables, whole grains, lean proteins, and fat-free dairy products.
Break Bad Habits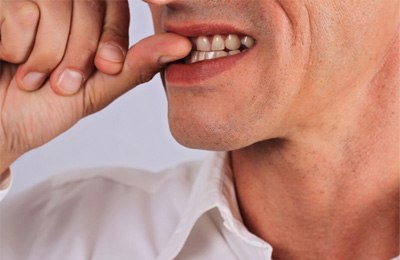 To ensure your implants last as long as possible, consider adjusting your lifestyle. Avoiding habits like chewing on ice or other hard objects (such as pencils, fingernails, or packaging) is essential, as these can exert significant force and pose a risk of implant failure. Additionally, smoking or using tobacco products can encourage bacterial growth in the mouth, potentially resulting in gum disease or other complications. It's a good idea to break such habits and replace them with healthier alternatives, such as using proper tools for opening packaging.
Protect Your Dental Implants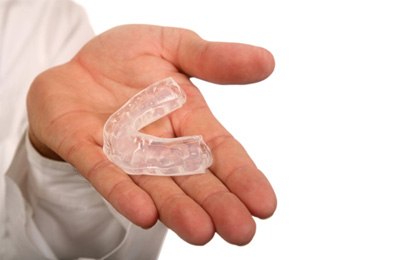 Dental implants are tough, but not indestructible. If you grind or clench your teeth, it can negatively affect both the implants and their restorations. In that case, wearing an oral appliance can help break the habit. And if you're into sports, wearing a mouthguard is a great way to shield your face from unexpected hits.
Schedule Regular Dental Checkups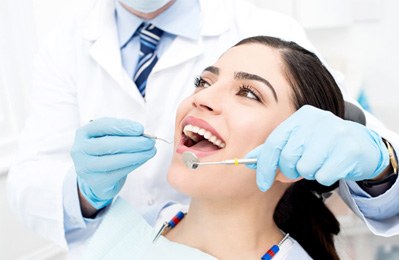 Even if you're doing a great job with your oral care at home, plaque can still sneak in and cause issues over time. That's why it's crucial to keep up with regular checkups and cleanings with our team, even if you don't have any natural teeth left. These appointments allow us to ensure your implants are in top-notch condition and keep your smile healthy!
Dental Implant FAQs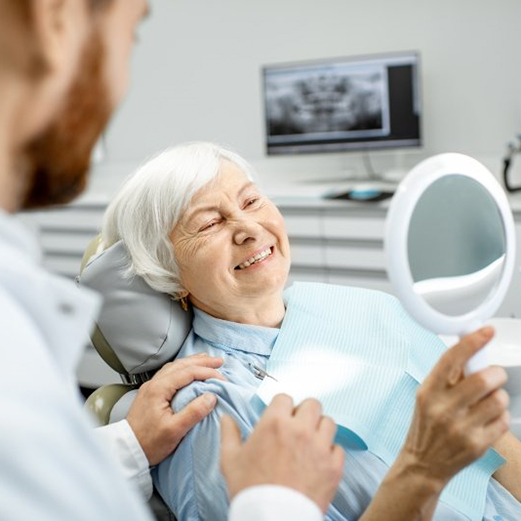 With dental implants, you'll be able to replace your missing teeth and rely on a longer-lasting and more natural-feeling tooth replacement option than ever before. Still, it's normal to want to know more about this treatment before moving forward with it. That's why our team has taken the time to list some of our most frequently asked questions about dental implants from our patients in Schoharie. Keep reading to learn more or reach out to our team to schedule your consultation!
Does Getting Dental Implants Hurt?
Firstly, our team will do everything we can to ensure that you're as comfortable as possible during your appointment. We'll begin your procedure by completely numbing the area that we'll be working on with a local anesthetic, significantly reducing discomfort. Furthermore, the jawbone doesn't consist of many nerve endings, so you shouldn't expect much pain throughout your visit. The surgery itself won't hurt, but it's normal to feel sore or tender for the next few days following your procedure. To make your recovery smoother, you'll simply need to take over-the-counter/prescribed pain relievers and/or a cold compress to alleviate discomfort. If you notice any pain that persists or worsens after several days, come see us for help.
How Long Do Dental Implants Last?
In general, dental implants are so successful that you can expect them to last several decades to even a lifetime. However, this will mainly depend on how well you take care of them. Not only will you need to regularly brush, floss, and rinse with mouthwash every day, but you'll also need to visit your dentist at least every six months so they can monitor your progress as well as your oral health. It's also important that you implement a healthier diet consisting of nutritious meals like fruits, veggies, and lean protein to promote strong and healthy gum tissue and jawbone density. Avoid chewing anything too hard or sticky, as this can cause damage or complications with your implants.
Can I Get Dental Implants If I'm Diabetic?
If you have diabetes, you'll need to keep your condition under control so that your odds of successful treatment can be on par with that of nondiabetic patients. If left unchecked, your situation can negatively impact your healing process, making it more difficult for your dental implants to properly fuse with your jawbone. Consult your endocrinologist or primary care provider to see how you can manage your blood sugar levels before moving forward with dental implant treatment.
Am I Too Young to Get Dental Implants?
Anyone younger than 18 years old may not be eligible for dental implants. This is because their jawbone is still maturing and hasn't fully developed. If placed, the posts can end up interfering with bone development and lead to certain issues. Some people's jaws might fully develop during their mid-20s. Our team will be sure to evaluate your situation during your consultation and determine if this treatment is right for you.