Invisalign® Clear Aligners – Schoharie, NY
Align Teeth Without Any Metal
Invisalign in Schoharie offers a discreet, comfortable, and effective way to correct crooked teeth and bite problems without having to rely on the noticeable brackets and wires of metal braces. These clear aligners allow patients to smile with confidence and eat whatever they like throughout treatment, making Invisalign compatible with any lifestyle. To learn how you may be able to benefit from Invisalign, schedule a consultation with our team at Schoharie Dental.
Why Choose Schoharie Dental for Invisalign Clear Aligners?
Dr. Elbialy Is a Platinum Invisalign Provider
Best Price and Financing Options
Preview Final Results Before Committing to Treatment
All-Inclusive Invisalign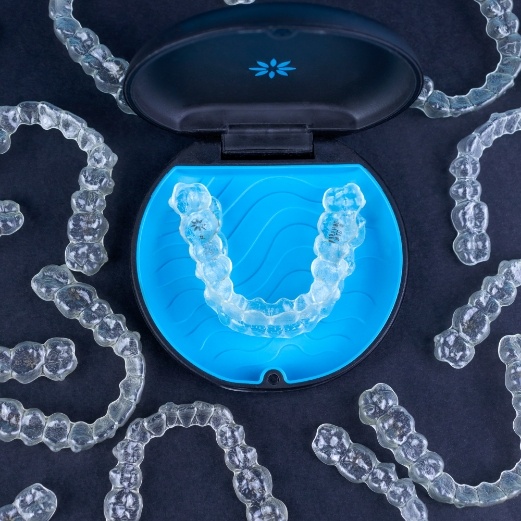 If you are considering Invisalign with another provider, you should ask about these potential additional costs. We offer the best all-inclusive deal, as it includes all of the following:
Initial Consult
X-Rays
Photos
All Visits
Scanning/Impressions
All Invisalign® Treatments
Any Necessary Corrections
Free Set of Retainers
Treatment isn't over until you are happy with your smile.
The Invisalign Process
The first step in the Invisalign process is to schedule a consultation with Dr. Elbialy. During this visit, he'll capture a digital scane of your teeth and photos of your smile. He'll show you a simulation of what your teeth will look like after treatment and develop a customized Invisalign treatment plan to address your unique orthodontic issues. After moving forward with the process, you'll receive your Invisalign trays with a schedule when to change into the next tray. As you progress through the treatment, you'll notice your teeth gradually beginning to shift into their ideal position. Once you reach your final sets of trays and you are happy with the results, Dr. Elbialy will provide you with a retainer and capture photos so you can see the before-and-after results!
Understanding the Cost of Invisalign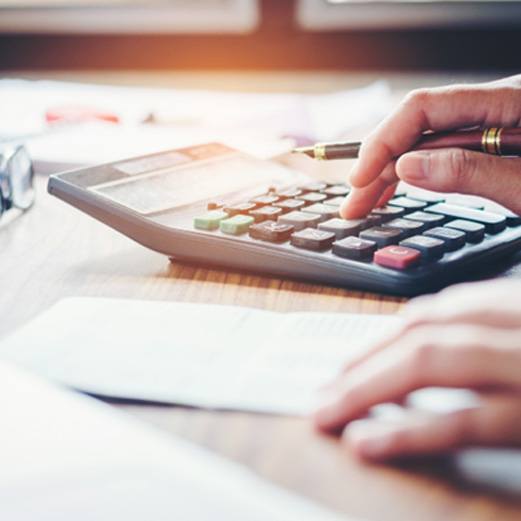 Would you like to straighten your smile, but are concerned about the impact undergoing treatment could have on your monthly budget or savings? Our team at Schoharie Dental is flexible and capable, especially when it comes to finding you a payment plan that fits your budget. We also accept additional financing, state insurance like Medicaid and ManageCare, and most PPO dental insurance plans. If you have any concerns about the cost of Invisalign in Schoharie, call us today!
Factors That Affect the Cost of Invisalign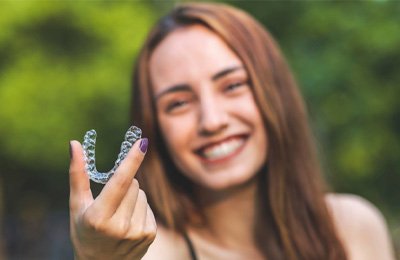 There are several factors that can play into the cost of your treatment that our team will discuss with you during your consultation, including:
How many aligners you need will largely depend on the complexity of your orthodontic issues. For example, addressing bite problems will likely require more trays than fixing minor crowding.
In some cases, only one arch of teeth will need to be straightened, minimizing how many aligners you'll need to wear throughout your journey.
Losing or damaging one or more aligners can not only set back your treatment timeline, but also lead to a higher cost.
Additional necessary accessories, like elastics and chewies, may be required.
Invisalign vs. Mail-In Aligners: Which is the Better Value?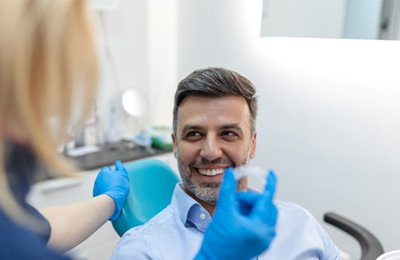 Although mail-in aligners like Smile Direct Club™ have a lower up-front cost, these aren't always the best or safest option for your smile. This is due to a few key factors, including:
Lower quality materials are used, making the trays less comfortable and more likely to become easily damaged.
The DIY-approach to this treatment means less professional oversight, leading to more complications and risks.
Although they promise shorter treatment times, a fast approach to shifting teeth could lead to oral health problems.
Invisalign is overseen by trained professional, Dr. Elbialy , who is a Platinum Invisalign Provider. This means that he completes 60 or more cases every six months, so you'll have the peace of mind that your dentist is a reliable expert.
Does Dental Insurance Cover Invisalign?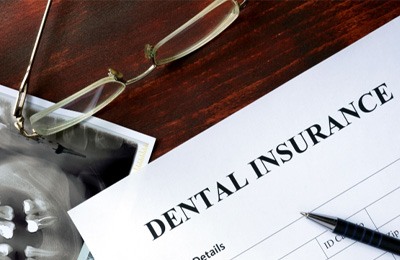 While many insurance plans don't cover the cost of orthodontic treatment unless it's opted into, yours may cover a portion or all of the cost. Let our team help you decipher your coverage by contacting us today! We're proud to accept most PPO dental insurance plans as well as file claims on your behalf.
Other Easy Funding Options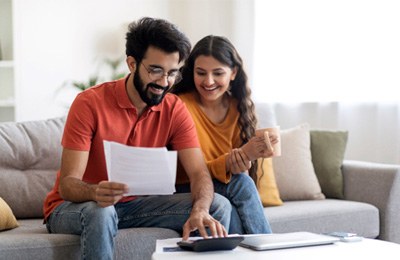 Financial considerations should never be an obstacle to obtaining a happier and healthier smile. We have different options available to fit everyone's individual needs. If you're a self-pay patient we offer flexible, easy payment plans, like our all-inclusive Invisalign treatment package for $3,199 out the door. We also offer low monthly payment plans starting at $70/month with $0 down. If you have any financial concerns about moving forward with treatment, we're happy to do our best to accommodate your budget!












First 3-6 Months After Invisalign Treatment
For the first 3 months after orthodontic treatment with Invisalign is completed, wear your retainers day and night. Only remove them to eat and brush your teeth. After three months, wear your retainer only at night. You will need to continue daily night time wear for as long as you want your smile to remain the same. Not wearing the trays every night forever will lead to your teeth shifting and your retainers no longer being effective.
Every 6 Months After Invisalign Treatment
Every six months, you should try on a new duplicate retainer. If the new retainers feel significantly tighter, your current set of retainers has stretched. It is time to switch to a new set before your teeth irreversibly shift.
If you only have one set of retainers, there is no way to determine if your teeth have shifted until you notice that shift. At which point, it is too late, and your smile has changed. Getting a new scan/impression for new retainers will stop further shifting but will not shift teeth back to where you were happiest with your smile.
This is why we recommend choosing Vivera, which is four sets of retainers, with your scan, saved on file for future sets (not included).
When You Need More Retainers After Invisalign
Please call us for more retainers when you are ready to upgrade from your single set retainer to a more secure way of protecting your smile that you have worked so hard to get. We will scan you for Vivera.
You can also let us know when you start using your last set of Vivera. You don't ever want to be without a backup on hand. If you have had no major dental work and have been correctly following the instructions above, you will likely not need a new scan/impression.
Cleaning Invisalign Retainers
Please feel free to bring your retainers in for cleaning every time you come to our office for a professional dental cleaning.
Invisalign FAQs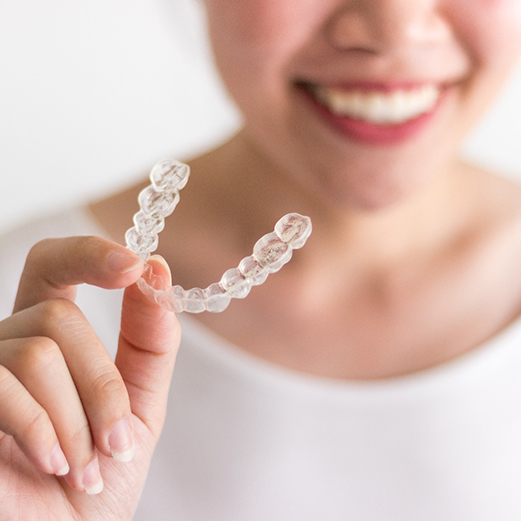 If you'd like to learn more about Invisalign in Schoharie, don't go anywhere – you're in the right place! Below, we've responded to FAQs about clear aligner treatment so you can continue your research online. As always, if you have a specific question on your mind, you're welcome to reach out to our team too.
What Does Invisalign Look Like?
Since each aligner is custom-made just for you, they look like a see-through, plastic mold of your teeth! Of course, it does take some commitment to keep them clear, which is why we recommend cleaning them each morning and evening and removing them before eating or drinking anything other than water. You can also use the cleaning crystals that came in your welcome kit to provide them with a deeper clean.
How Long Does Invisalign Take?
Although there isn't a one-size-fits-all answer, there is an average treatment timeline: 12-18 months. The length of yours will depend on several important factors, including how many aligners you need and how long you'll wear each one. Naturally, your dedication to the treatment guidelines also plays a role. For example, if you consistently don't wear your aligners for 20-22 hours a day, then there's a good chance that you'll fall off-track with your treatment plan.
Is Invisalign Cheaper than Braces?
Since traditional braces and Invisalign are two popular orthodontic treatments, many patients think that they can compare the prices of each side by side. However, the cost really comes down to the complexity of your care. We also mentioned in the previous section that there are price-related factors that will come up after you start your teeth-straightening journey, including how well you follow the guidelines given to you by your dental team. In short, there are some cases where Invisalign is more expensive, and there are other cases where it isn't – it really depends on each individual patient!
What Are Invisalign Attachments?
To answer this question, we need to go back to the beginning of Invisalign. When it first debuted, the clear aligners were only suitable for patients with more mild cases of malocclusion. As this innovative orthodontic treatment advanced, however, it added attachments to the treatment plans. These small pieces of tooth-colored resin give the trays some extra grip, allowing them to correct more moderately misaligned teeth. Plus, they are hard to detect, which means that the discreetness of your treatment won't be compromised in any way.
Can You Drink Coffee with Invisalign?
You can! There is just one rule: you have to remove your aligners first. This is important because hot coffee can cause your trays to warp, rendering them virtually useless. You might be thinking "I'll drink it iced then!" However, that poses another problem: stains. That's why indulging in this caffeinated beverage alongside your breakfast or lunch is the best thing to do.